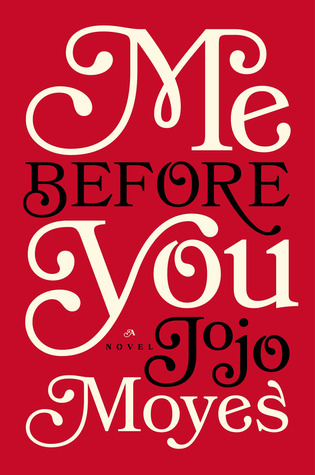 3 Stars.
syn·op·sis
Lou Clark knows lots of things. She knows how many footsteps there are between the bus stop and home. She knows she likes working in The Buttered Bun tea shop and she knows she might not love her boyfriend Patrick.
What Lou doesn't know is she's about to lose her job or that knowing what's coming is what keeps her sane.
Will Traynor knows his motorcycle accident took away his desire to live. He knows everything feels very small and rather joyless now and he knows exactly how he's going to put a stop to that.
What Will doesn't know is that Lou is about to burst into his world in a riot of colour. And neither of them knows they're going to change the other for all time.
re·view
Ok, this was a doozie.. Also, I have an unpopular opinion, so lets start knowing that. And be warned, this is not a love story, not even a little bit.
A friend send me the ebook for this book and told me was her favorite book, that I needed to read it right away and since I never get book recommendations from real life friends, I didn't look up anything about it, just started reading. I had so many problems with this one, don't even know where to start.
Firstly, the characters, I have no problem with her living at home and having less then ideal career situation, what bothered me is the lack of wanting anything other than a paycheck, and then guess what changes her mind? Will. Yes, there is no other real reason, he decides what she should be doing and she decides that she is going to do whatever he tells her to do.
Will is just selfish and obnoxious.. All of the characters are forgettable, to be honest. there is no real depth.
Other thing that was weird, was the way money was treated on this book, witch is a thing that never had me thinking one way or the other.. but here, I felt like the author just dislikes wealth, and keeps turning her nose overtime she talks about it.
The fact the Will is a quadriplegic is very one sided to me, reader is spoon fed all of the horrible things about the condition, is like the author wants us to believe that in life there is two options, you can be healthy, live an amazing job filled with rock climbing or you are stuck to a bed. There is no real talk about patients that thrive and live a fulfilling life from a chair.
As for the writing, that was the thing that made me actually finish the book, it was enjoyable and easy. My only problem with that was the sudden change in point of views in the end. It just started to flipflop in consistently between characters.